AUTHENTICATION & GRADING OF

COLLECTIBLE CARDS
We are the first grading company in the Czech Republic that specializes in grading and authentication of collectible cards. For example Pokémon, Magic: The Gathering, and various sports cards.
Uniquely

Yours
Get a carefully crafted and authentic 3D replica of your real world assets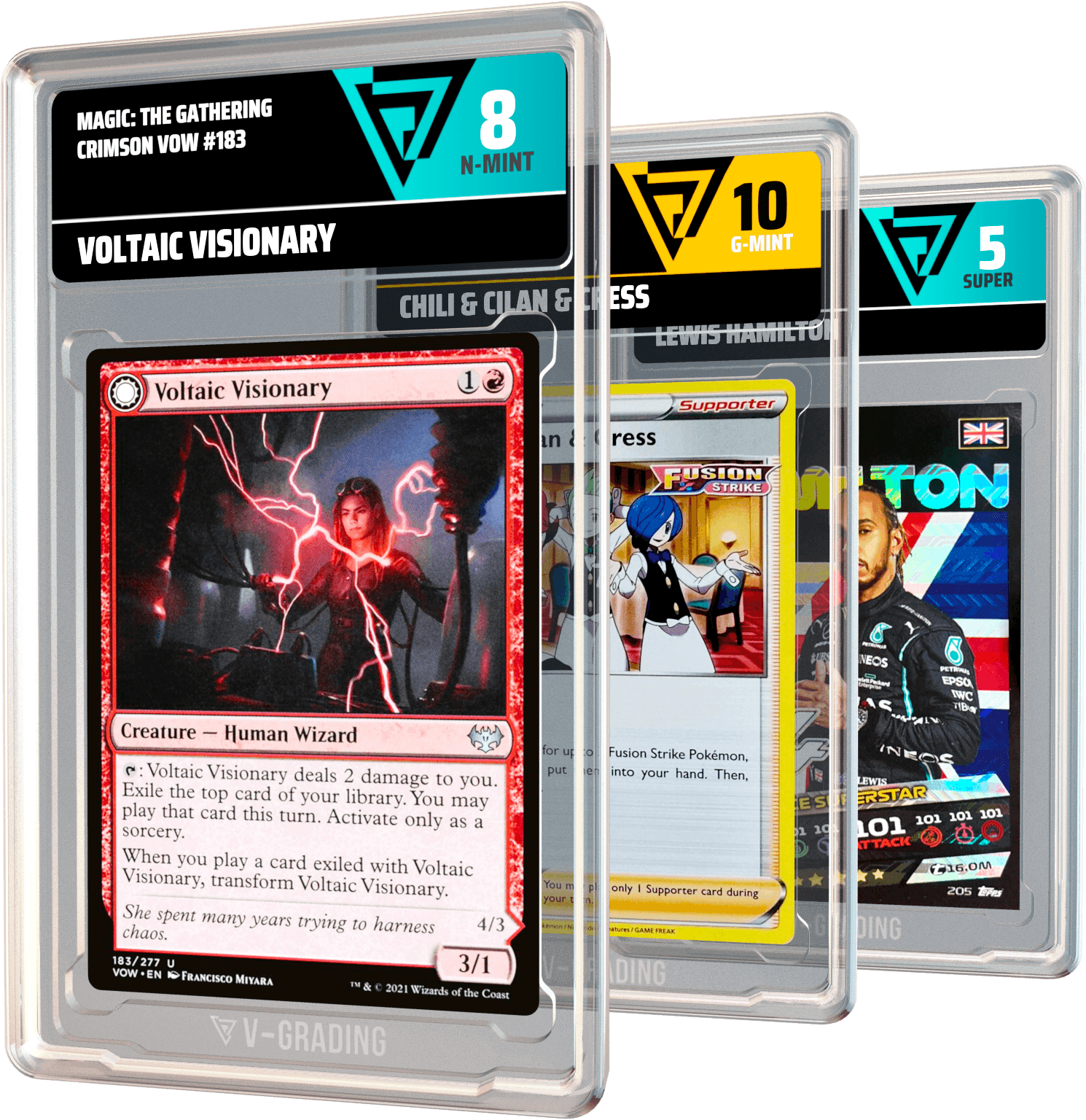 AUTHENTICATION & GRADING OF

COLLECTIBLE CARDS
We are the first grading company in the Czech Republic that specializes in grading and authentication of collectible cards. For example Pokémon, Magic: The Gathering, and various sports cards.
Grading asset

Explanation
Series
The series on your card indicates where your card was printed and by which manufacturer.
Subject
The subject of the card explains your character, personality, and any special powers which they possess.
Score
Once V-Grading has received your card will we return it to you with your card's personalised scoring.
Serial Number
Serial numbers found on your cards are what we use to provide the grading service. These are unique codes which are gained specifically by V-Grading.
Card's back
The back of your card contains a QR Code which makes verification easy and a safety sticker to ensure that the slab has not tampered after it is sealed by us.
At V-Grading, we follow strict grading processes and standard. We also provide sub-grades for our customers. Know more about what our grades mean.
1
Poor
V-Grading Poor will show off most of the equal traits of a V-Grading Fair card however the defects can also additionally have superior to one of these critical level that the attention enchantment of the cardboard has almost vanished in its entirety. A Poor card can be lacking one or small pieces, show off predominant creasing that almost breaks via all of the layers of cardboard or it is able to comprise excessive discoloration or dirtiness in the course of which can make it tough to become aware of the problem or content material of the cardboard on both the the front or back. A card of this nature can also display great warping or every other kind of detrimental defect
2
Flat
V-Grading Flat card's corners will display severe wear, probably affecting framing of the photo. The floor of the cardboard will display superior degrees of wear, consisting of scuffing, scratching, pitting, chipping and staining. The photo will probably be pretty out-of-check in and the borders might also additionally have come to be brown and dirty. The card might also additionally have one or extra heavy creases. In order to attain a Fair grade, a card need to be completely intact. Even aleven though the cardboard can be closely worn, it can not attain this grade if it's miles lacking strong portions of the cardboard because of a chief tear, etc.
3
Fair
V-Grading Fair card's corners display elevated rounding and floor put on is beginning to grow to be obvious. The card may also have scratching, scuffing, mild staining, or chipping of tooth on obverse. There can be numerous creases. Original gloss can be absolutely absent. Card may also display huge discoloration.
4
Good
V-Grading Good shows a few rounding of the corners, although now not extreme. Some floor put on may be apparent, together with feasible mild scuffing or mild scratches. Focus can be incredibly off-check in and edges might also additionally showcase substantive tear. Much, however now no longer all, of the card's authentic gloss may be lost. Borders can be incredibly yellowed and/or discolored. A crease can be visible. Printing defects are feasible. Slight stain might also additionally display on obverse and wax staining on opposite can be greater prominent.
5
Super
V-Grading Super card's corners can be barely rounded. Surface put on is considerable however modest. The card might also additionally have mild scuffing or mild scratches. Some authentic gloss can be retained. Borders can be barely off-white. A mild crease can be visible.
6
Excellent
On V-Grading Excellent cards, very minor rounding of the corners is turning into evident. Surface put on or printing defects are greater seen. There can be minor chipping on edges. Loss of authentic gloss can be greater apparent. Focus of photo can be barely out-of-register. Several mild scratches can be seen upon near inspection, however do now no longer detract from the enchantment of the card. Card may also display a few off-whiteness of borders.
7
Elite
V-Grading Elite card may have visible surface wear or a printing defect which does not detract from its overall appeal. A very light scratch may be detected only upon close inspection. Corners may have slightly graduated fraying. Picture focus may be slightly out-of register. Card may show some loss of original gloss, may have minor wax stain on reverse, may exhibit very slight notching on edges and may also show some off-whiteness on borders.
8
Near-Mint
V-Grading Near-Mint is a card with only a mild floor put on seen upon near inspection. There can be mild fraying on a few corners. Picture awareness can be barely out-of-register. A minor printing blemish is suitable. Slight wax staining is suitable at the lower back of the cardboard only. Most of the authentic gloss is retained.
9
Mint
V-Grading Mint is an excellent high quality card that looks similar to a Gem Mint at the first glance, however upon nearer inspection, the cardboard can showcase the following: a moderate wax stain on reverse, slightest fraying at one or corners, a minor printing imperfection, and/or barely off-white borders. Centring is not as great as a Gem Mint either.
10
Gem-Mint
V-Grading Gem Mint 10 card is a perfect card - it is free of any imperfections. Attributes include four perfectly sharp angles, crisp focus, and full original shine. The image should be justly centred on the paper on the front as well as on the back. An almost perfect card with even a few not so obvious flaws will be awarded a Mint status with a high subgrade and not the Gem Mint Status.
How does it

work?
Make an order
The first step to getting your card graded by us is to place an online order to generate a order reference number.
Shipment
The email sent to you post an successful order has instructions on how to package and send us the trading card.
Grading
Our specialist team will authenticate your card using high-quality forensic gaming equipment.
Returning to you
Once our specialist team have examined and graded your card it will be returned by our trusted logistics partner.
Why are the cards graded?
Do you grade something else than cards (e.g. stamps, stickers, boosters)?
What is the difference between Pre-Grading and Grading?
Can I only get card verification?
Will I always get my card graded?
Who grades the cards for you?
How can I check each sub-grade of grading?
What should I do if I want to have my cards graded?
Can I bring/pick up my cards in person?
Is there a limit for sending cards?
Will I get a confirmation when my cards arrive to you?
How long will it take to grade my card?
I have several autographed cards, can I send them as well?
Is it true that the more valuable my card is, the more expensive its grading will be?
What if the card is a fake?
Subscribe for
updates
Join our mailing list and be the first one to know more about the latest developments and events.
Check for our recent post on Instagram